Restoring Communities
Cotton Foundation seeks to give back to the communities we serve by providing comfort and supplies to people in need. Operating in areas devastated by disasters, Cotton Foundation responds with compassion and takes on projects with the goal of restoring hope. Recent Restoring Hope initiatives are described below.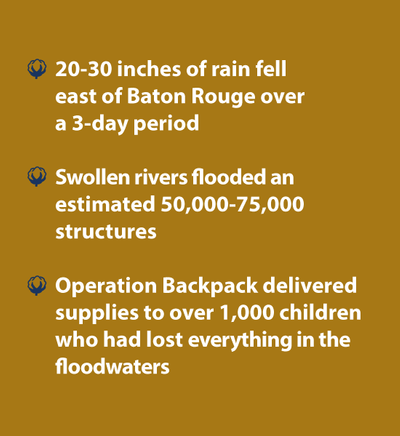 Operation Backpack
In August 2016, prolonged rainfall caused catastrophic flooding in southern Louisiana, submerging thousands of homes, schools, and businesses. In Tangipahoa Parish, east of Baton Rouge, Lucille Nesom Memorial School and Amite Westside Middle Magnet School both suffered significant damage—and many of their students also lost much or all of their households.
In response, Cotton Foundation deployed Operation Backpack, a one-week campaign to purchase and deliver backpacks and supplies. Thanks to the generous support of individual and corporate sponsors from throughout the nation, and volunteers who assembled, prepared, and delivered the items, on August 31, 2016, more than 1,000 students from kindergarten through the 8th grade received the school supplies they needed. Operation Backpack was so successful that remaining supplies were donated to the Tangipahoa Parish School System Book Bag program.
Toy Drive
On May 20, 2013, an EF4/5 tornado struck Moore, Oklahoma, destroying more than 1,150 homes and taking 24 lives. Cotton Foundation held a toy drive to collect and distribute toys to responders at the scene. Through generous contributions and volunteering, many children received comfort and hope after this devastating storm.