Helping Neighbors
Team Cotton is a family. Because we are ideally well-positioned to help those in need, we have a responsibility as a family to care for them. From our early toy drives through raising money for sick children, and from providing gift bags to children at M.D. Anderson Cancer to Center to helping restore a veteran's flooded home, Cotton Foundation has a history of providing meaningful relief.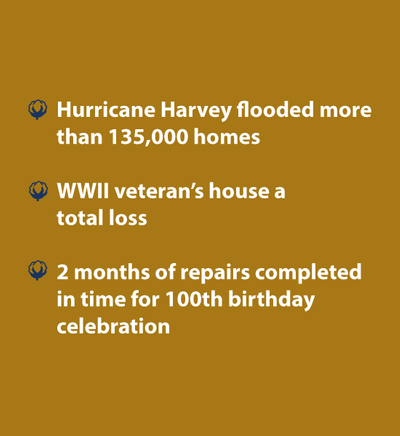 OPERATION 100: MISSION ACCOMPLISHED
First Lieutenant William Fly, a World War II Army Air Corps veteran whose home was inundated by flood water during Hurricane Harvey. Working in partnership with former U.S. Navy SEAL Marcus Luttrell, his wife Melanie, and the Never Quit Foundation, Cotton Foundation worked for two months on "Operation 100" to ensure that Lieutenant Fly's home was remodeled and move-in-ready in time for his 100th birthday on November 13, 2017. His return home was celebrated on the Veterans Day edition of Fox & Friends, and we were honored to give back to a man who served our country with distinction.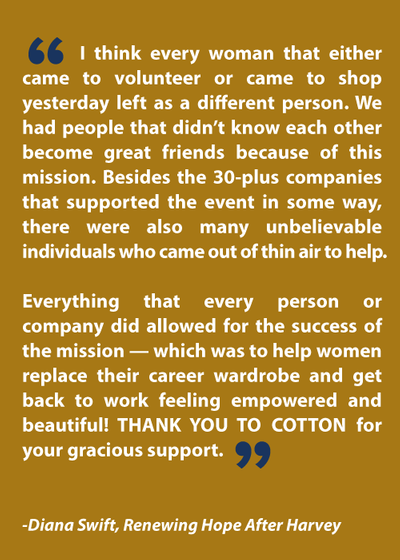 HOPE AFTER HARVEY
Nearly 100 women who, during Hurricane Harvey, had lost the wardrobes they needed to work at their jobs. Cotton Foundation and Cotton Ranch Events hosted Renewing Hope After Harvey. This collaborative effort among corporations, volunteers, and the Cotton team, collected professional attire and accessories donated by women in Houston's energy, banking, and legal sectors, to ensure that these women could continue in their jobs with confidence.
MD ANDERSON GIFT BAGS
Cotton Foundation put together 100 gift bags for children arriving at MD Anderson Cancer Center. Bags were put together by Cotton employees and a personal note of encouragement was included with each gift. What a blessing it is for the Cotton Foundation to be able to touch the lives of so many.
BILLY CARY EVENT
Billy Cary, a 13-year-old boy from Katy, Texas, who was diagnosed in 2009 with the H1N1 virus ("swine flu"). Billy was hospitalized with complications from his illness. Cotton Foundation presented a community fundraiser to help Billy's family with their mounting medical bills, raising thousands of dollars from more than 700 people. A decade later, Billy is a healthy young man, grateful for the generosity of his community and Cotton Foundation.